Order Times

Please be aware your 'finger food' catering order will be created fresh for you to our very high standard. To allow our bakery to program your requirements into our baking schedule: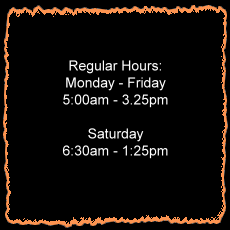 A minimum of 2 days notice prior to the catering function
Or
For large orders (over 50 people)
a minimum of 1 weeks notice prior to the catering function

We understand that last minute catering functions do arise, and we will try our up most to accommodate you.

Pick Up Times

This is entirely up to you. Your catering order will be packed ready to pick up at the time you choose.
The hot food will be piping hot; the cold food then will be chilled to maintain the quality and freshness that you have come to expect from 'NorthEnd FoodBar & Bakery.

For those of you who can't find the time to leave the office, one of our friendly team members will be happy to deliver your catering order. A small delivery fee for this service will be charged.

Payment and Cancellation

A deposit may be required to secure your catering request, with the remaining balance to be paid upon completion of the order. Please contact us to arrange the method of payment best suited to you or your company.
If you cancel your catering order at the manufacturing stage, then a cancellation charge may apply.